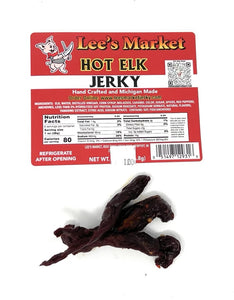 Here's one for the hunters out on a cold hunt.  We took our Original elk jerky and infused a four-pepper blend to turn up the heat!  This is now a fan favorite!

About the elk- Now that's a giant deer! Elk has more protein and less cholesterol than beef, pork and even chicken. Elk tastes like a cross of venison and beef and is a a good source for iron, phosphorus and zinc. 
Pasture raised on 60,000 acres in central Canada, North American Elk are the second largest mammal in the deer family. These Elk graze naturally on grass, plants, leaves and bark. Antibiotics, steroids and hormones are NEVER used.  Occasionally, Elk are sourced from New Zealand. The Elk from NZ are raised the same way as the Canadian Elk.