UNIQUE FLAVORS, EXOTIC TYPES OF MEAT AND AMAZING VARIETY
Experience Freshness In Every Package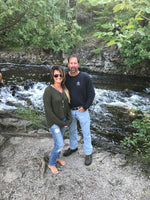 Our Story
Lee's Market was founded in 1962 on the premise of providing quality products at a convenience to customers in the Newport, MI area.
Since then, we have grown to a staple in Southeastern Michigan for jerky, as what many of our customers believe to be "The Best Jerky Around."
Not wanting to keep one of Southeastern Michigan's best kept secrets to ourselves, we wanted to bring the joy and pleasure of high-quality jerky to everybody. We hope you enjoy the passion we put into every strip.
@leesmarketjerky
Like and follow us on Facebook, Instagram and TikTok for additional information on new flavors, product updates, and more!
Jerky for Sale, Hand-Crafted in Michigan
Welcome to your new favorite spot for delicious hand-crafted jerky! This tasty treat is now available at your fingertips with our online jerky store. Here at Lee's Market Jerky, we are looking to make our great-tasting jerky available to everyone. For 30 years, we have been testing and perfecting our various jerky flavors and types to ensure that every bite is as satisfying as the first. All our gourmet jerky for sale is 100% USDA approved and ready to be enjoyed as soon as it arrives at your door. No matter what your tastebuds crave, when you shop for jerky online, it should not matter if you are interested in beef, poultry, elk, or venison—we give you every option! Combining that idea with all our various flavors, from smokey or sweet to spicy or savory, we have a flavor combination for you.