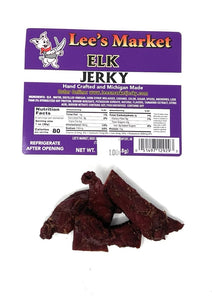 Original Elk Jerky for Sale 
Looking for a beef jerky alternative that tastes great and even boasts some health benefits? Introducing our original elk jerky for sale!
Our Original blend of spices compliments elk meat like no other. Elk jerky packs an amazingly tender bite that will keep you wishing you would have tried it sooner! 
About the Meat- Now that's a giant deer! Pasture-raised on 60,000 acres in central Canada, the North American Elk is the second largest mammal in the deer family. These Elk graze naturally on grass, plants, leaves, and bark. Our Elk are part of the "Never Ever Program", where antibiotics, steroids, and hormones are never used. Elk has more protein and less cholesterol than beef, pork, and even chicken. Being a good source of iron, phosphorus, and zinc, Elk is a great beef jerky alternative. With a similar color, Elk jerky tastes like a cross of venison and beef. Occasionally, we source from New Zealand. The Elk from NZ are raised the same way as the Canadian Elk. Browse our original elk jerky for sale today and experience the unique and savory flavor this delicacy has to offer. When you buy elk jerky from Lee's Market Jerky, you can expect quick and easy shipping and, most importantly, great-tasting products!